Advances in nanotechnology will be a key enabler of technological advance in the next decade. The integration of information technology, biotechnology, materials sciences, and nanotechnology will generate a dramatic increase in innovation. Read this Alert to see how your personal and business life might be affected pretty soon.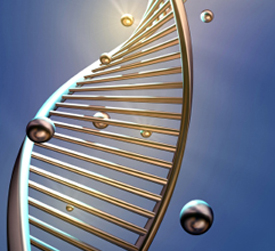 What is changing?
Innovation
Older technologies will continue lateral 'sidewise development' into new markets and applications .
Current high-visibility investments and technology breakthroughs will be needed to realize the full potential of nanotechnology.
Technologies like nanotechnology will be used to establish a maintenance free environment (i.e. self -cleansing glass, self-repairing concrete).
Nanotechnology will produce new goods with new properties at a smaller scale that may use far less resources.
Health
Future uses of genetic data, software, and nanotechnology will help detect and treat disease at the genetic or molecular level.
Modern healthcare technologies and prevention strategies will have the potential to extend the life expectancy of people.
Molecular 'robots' could be designed to enter the body and eat plaque.
Nanotechnology will enable lives to be saved by digestible cameras and machines made from particles 50,000 times as small as a human hair.
Smart nano-materials will facilitate the development of textiles that detect biotoxins.
Business
The global market for nanotechnologies will reach $1 trillion or more within 20 years.
Progress in nanotechnology will depend heavily on R&D investments.
Robotics, synthetic biology, nanotechnology, and molecular manufacturing really will lead to an explosion of wealth and resource availability.
Printed electronics and electrics will be a $335 billion business in twenty years i.e. 2029
Bioscience, information technology, and nanotechnology will be applied to meet agricultural and food challenges.
There will be 400,000 jobs in the nanotech sector across the European Union this year.
Nanotechnology, 3D printing, smart materials and a new generation of composites will be a $1.3trn (£805.8bn) global manufacturing battleground this year.
In the coming future nanotechnology will certainly have a colossal effect on the ceramics, metals, polymers, and biomaterials industries.
Implications
Transformations
As personalized medicine becomes more affordable expect to see the coming of age for genomics, nanotechnology, robotics, and other innovations.
The use of nanotechnology could herald an 'exciting' breakthrough for patients with heart disease.
Nanotechnology could completely transform conventional economic activity from healthcare and renewable energy technology to food production.
Applications that are likely to be widely diffused in 2025 will combine different technologies such as biotechnology, nanotechnology, materials technology and information technology.
New applications and reinventions will trigger market take-off and shape further development of collaborative technologies for governance and policy modelling.
Nanotechnology is expected to have a major impact on sustainability in the near future.
Electronics
Nano- technology will enable different types of electronics.
Nanotechnology will allow chip manufacturers to continue upholding Moore's Law.
Nanoscale piezoelectric materials could provide the lowest possible power consumption for on/off switches in MEMS and other types of electronic computing systems.
Relying on nano-sized robotics will eventually become commonplace.
Development
Advances in nanotechnology will require long time horizons and continued investments in materials, platforms, and applications across manufacturingindustries.
Expect the greater use of new materials with an emphasis on not just boosting performance but also improving efficiency.
Materials and nanotechnology will enable the development of new devices with unforeseen capabilities.
Nanotechnology will replace most current wearable technology.
Discoveries in nanotechnology will lead to unprecedented understanding and control over the fundamental building blocks of all physical things.
Nanotechnology could be used to help reduce battery weight and lighten other products.
The U.S. Air Force believes that nanotechnology will have a direct application for both flight and space travel.
Nanotechnologies will pave the way for developing hybrid energy solutions.
Nanotechnology could provide solutions for sensing.
Nanotechnology will also spawn new technologies for manipulating DNA.
Risks             
Biotechnology and nanotechnology will provide greater potential for destruction.
Learn more
To find the sources and more resources on Shaping Tomorrow about 'The Future of Your Workplace' some of which were used in this Trend Alert, 'Small is beautiful – Nano futures surround you', or ask us for a customised, in-depth GIST report on this or any other topic of interest to you.  Also, click here to find out how Shaping Tomorrow can help your organization rapidly assess and respond to these and other key issues affecting your business.
Source: http://www.shapingtomorrow.com/summary/insights/423760